Gourmet Gift Box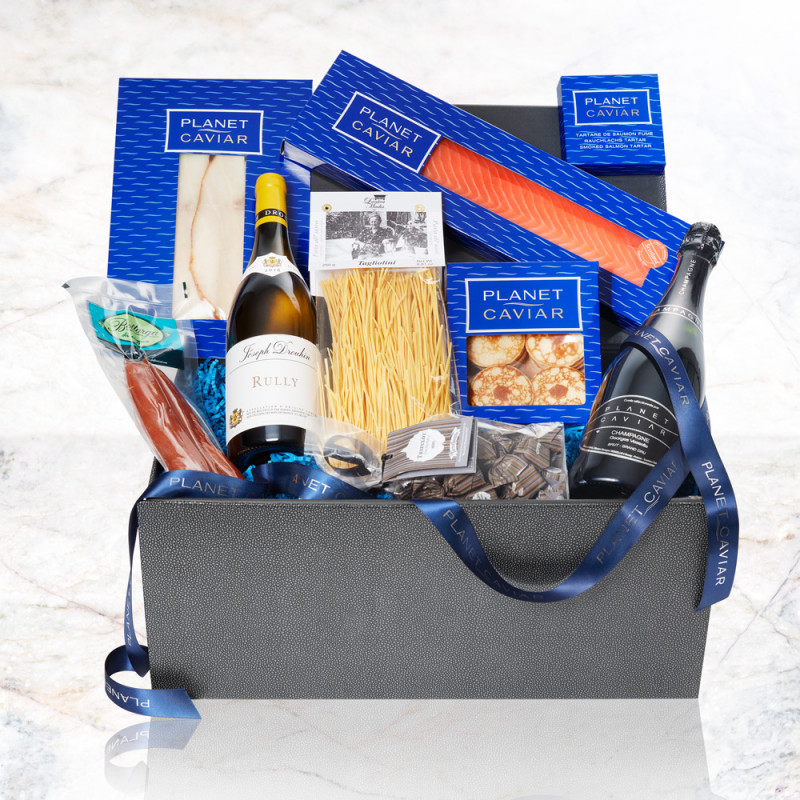  
Gourmet Gift Box
In this Gourmet box, indulgence comes with remarkable seafood; an ideal present for any lover of salmon, smoked sturgeon or boutarga, and white wine! You will enjoy the Scottish smoked salmon center-cut fillet, its jarred smoked version or smoked salmon tartare version. A packet of sliced smoked Beluga sturgeon, a boutargue of Sardinian mullet will delight your palate, all accompanied by Planet Caviar brut Champagne and Burgundy wine, Rully white. To complete it all, Taglioni, blinis and sweets will sparkle your eyes before your taste buds! Let's get indulged and enjoy!
This box contains
A bottle of Planet Caviar Champagne brut
A bottle of Bourgogne Wine, Saint Romain Blanc
One large heart of Scottish smoked salmon
A packet of smoked Beluga sturgeon sliced 200 g
A tin of smoked salmon tartar
One packet of tagliolini
A boutargue of Sardinian mullet
One packet of blinis
Sweets
Package delivered "Fresh" in 24H
Refrigerated delivery within 24 hours
Orders placed before 12 noon on working days will be executed within 24 hours at the latest, starting the following day.
Need advice
Do you have a question? An advice ?
Contact Planet Caviar at planet@planetcaviar.com
or by phone from 9am to 6pm from Monday to Saturday
at +41 22 840 40 85