Discovery Gift Box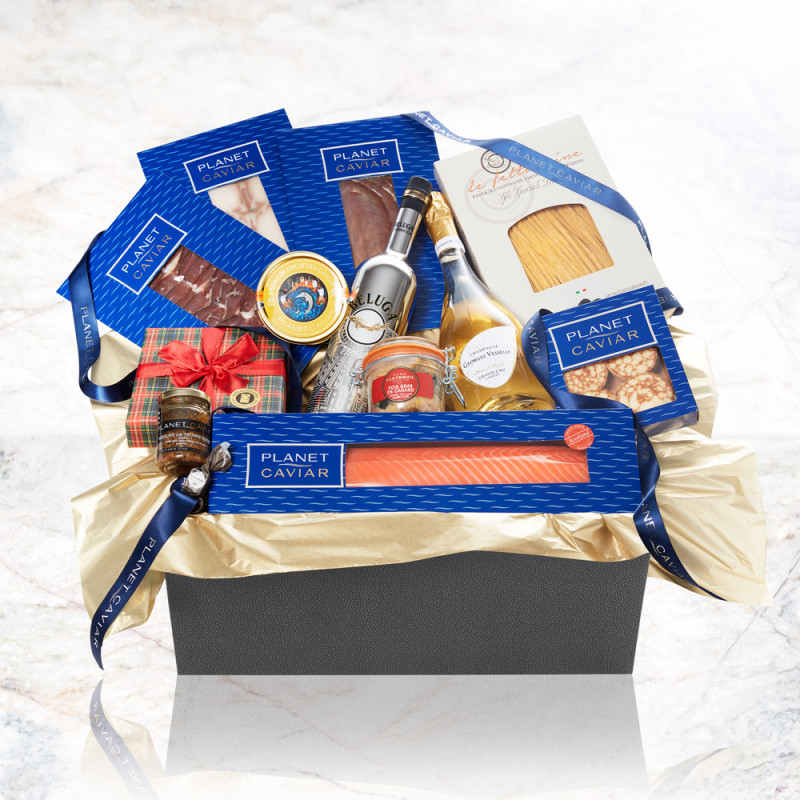  
Discovery Gift Box
PLANET CAVIAR likes to lead you into adventure, to immerse you in the universe of Discovery, honored with dignity. With this box, a wide range of incredible tasting products will make you travel and awaken your senses. Depending on the event, the lucky beneficiary will appreciate the sharing of either a glass of Champagne Grand Cru Georges, Vodka Beluga Celebration or Vesselle blanc de blanc. She will be delighted to share a Scottish center-cut smoked salmon fillet, sliced ​​smoked tuna, sliced ​​smoked Beluga sturgeon, or some caviar. Other occasions will allow her·him to appreciate the aromas of black truffle, via our foie gras with black truffles, Fettuccine with truffles and even breakings of truffles. In addition to the blinis and sweets associated with these multiple discoveries, she will not resist our candied chestnuts! Yummy "marrons glacés"!
This box contains
A bottle of Beluga Celebration Vodka
A bottle of Georges Vesselle Grand Cru Champagne blanc de blanc
A large heart of Scottish smoked salmon fillet
A packet of smoked tuna sliced 200g
One packet of Beluga smoked sturgeon sliced 200 g
100 g of osciètre caviar
One whole duck foie gras with truffles 180 g
One packet of smoked duck breast 100 g
One packet of Fettucine with truffles
A jar of truffle chips
A bag of blinis
A box of marrons glacés 250 g
Sweets
Package delivered "Fresh" in 24H
Refrigerated delivery within 24 hours
Orders placed before 12 noon on working days will be executed within 24 hours at the latest, starting the following day.
Need advice
Do you have a question? An advice ?
Contact Planet Caviar at planet@planetcaviar.com
or by phone from 9am to 6pm from Monday to Saturday
at +41 22 840 40 85