Splendour Gift Box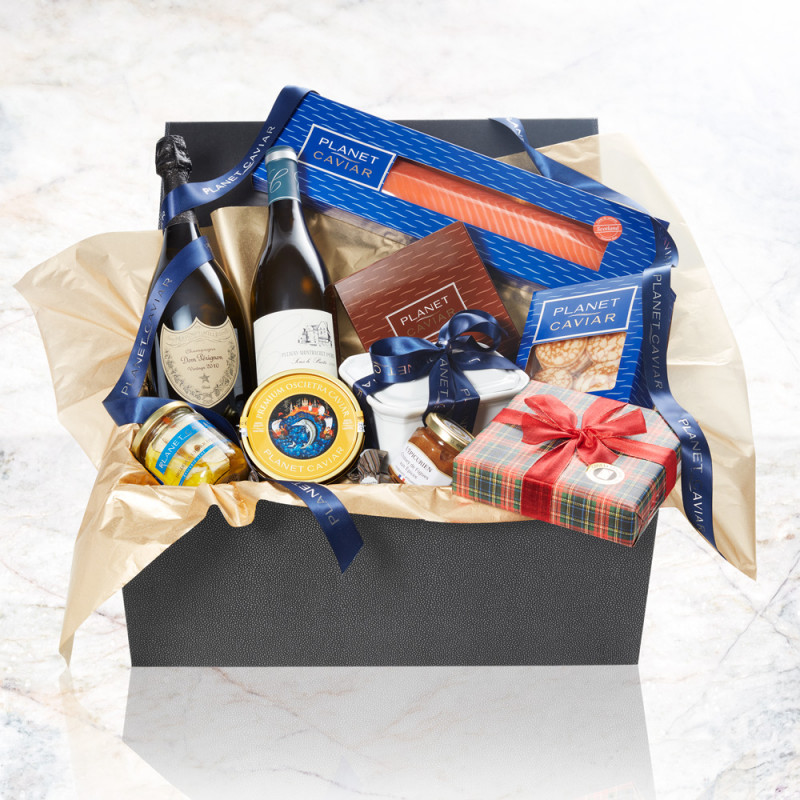  
Splendour Gift Box
Splendid is this box full of splendour! The most remarkable products, selected with the care of our professionals, make up a box that will transport the happy beneficiary. Renowned brands will be drunk with delight, such as Champagne Dom Pérignon or a bottle of Puligny Montrachet 1er cru, perfect to accompany farmed Osciètre caviar or a large Scottish centre-cut smoked salmon fillet or even Beluga belly to olive oil. Our homemade duck foie gras, full of fine aromas and texture, will delight the taste buds. Blinis and fruit chutney accompany them with discretion. And to finish gently, our homemade chocolate truffles, Ticino candied chestnuts and sweets will add an unforgettable sweet touch.
This box contains
A bottle of Champagne Dom Pérignon
A bottle of Puligny Montrachet 1er cru
200 g of farmed oscietra caviar
A large heart of Scottish smoked salmon fillet
A jar of Bely beluga with olive oil
One 500 g home-made duck foie gras in a porcelain terrine
A jar of fruit chutney
A packet of blinis
A box of homemade chocolate truffles
A box of Ticino glazed chestnuts 250 g
Sweets
Package delivered "Fresh" in 24H
Refrigerated delivery within 24 hours
Orders placed before 12 noon on working days will be executed within 24 hours at the latest, starting the following day.
Need advice
Do you have a question? An advice ?
Contact Planet Caviar at planet@planetcaviar.com
or by phone from 9am to 6pm from Monday to Saturday
at +41 22 840 40 85