Swiss Osciètre Black Caviar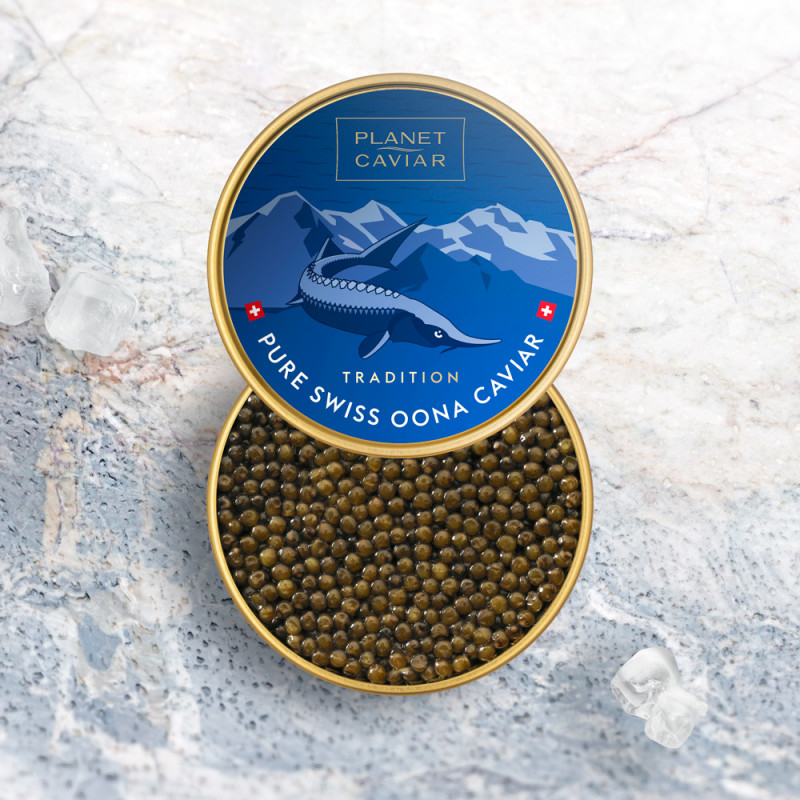  
Swiss Osciètre Black Caviar
Black smoothness and finesse
The osciètre (or Acipenser Gueldenstaedti) is an interesting sturgeon in several ways. It evolves in the wild in the Caspian Sea and in the Danube. It reaches maturity from 10-11 years, can live 50 years, and its weight oscillates between 20 and 80 kg. Its eggs have a variety of size and colors, dark brown to anthracite gray. They let a slight taste of nuts spread in the mouth for the greatest pleasure of amateurs.
Origine
Raised in Switzerland in spring water in the Bernese Alps. Hot water gushing from the depths of the Lötschberg
Grain size / Grain firmness
Soft grain
Aroma
Length in the mouth with, as a final touch, flavours with the scent of nuts
Culinary ideas
Your taste buds will love a potato waffle with caviar: a perfect complementarity between nobility and simplicity on the one hand and sincere harmony of tastes on the other. It is the ideal companion of baked potatoes.
More information about the product


Conservation
Between 0° and 4° C, to be consumed within 3 days after opening.
Scientific name
Acipenser Gueldenstaedti
Composition
Acipenser Gueldenstaedti, salt from Bex, no preservative
Allergen
Fish
Package delivered "Fresh" in 24H
Refrigerated delivery within 24 hours
Orders placed before 12 noon on working days will be executed within 24 hours at the latest, starting the following day.
Need advice
Do you have a question? An advice ?
Contact Planet Caviar at planet@planetcaviar.com
or by phone from 9am to 6pm from Monday to Saturday
at +41 22 840 40 85
Quantity for 2 pers.
30 g for an initiation (15 g / pers.) - 60 g min per pers. (30 g / pers.) for a starter - 100 g / pers. for a single dish or a meal head to head.
Customers who bought this product also bought: